Plastic barrel shredder is specially used to shred plastic waste into pieces, also named plastic shredder, it belongs to double shaft shredder (two shaft shredder). According to different waste plastic materials, the shredder includes: plastic pipe shredder, plastic bucket shredder, plastic container shredder, plastic toy shredder, plastic pallet shredder, plastic film shredder, plastic basin shredder, jumbo bags shredder, and so on.
The main working parts of the two shaft shredder is a pair of relatively rotating rollers, which are equipped with helical gear cutters. When the material enters the machine, it is torn and sheared by high hardness wear-resistant material with staggered rotation, and then split, crushed into smaller size, which is forcibly discharged.
Advantage of double shaft shredder:
1.Heavy removable blade, high-efficient crushing rate, knife made by special material, firm and long-life.
2.Thick frame can resist high torque firmly.
3.Low speed,big torque,low noise,less dust.
4.Easy adjustment,low maintenance fee and durable.
5.Knife thickness and blade quantity depend on different material.
Double shaft shredder core part :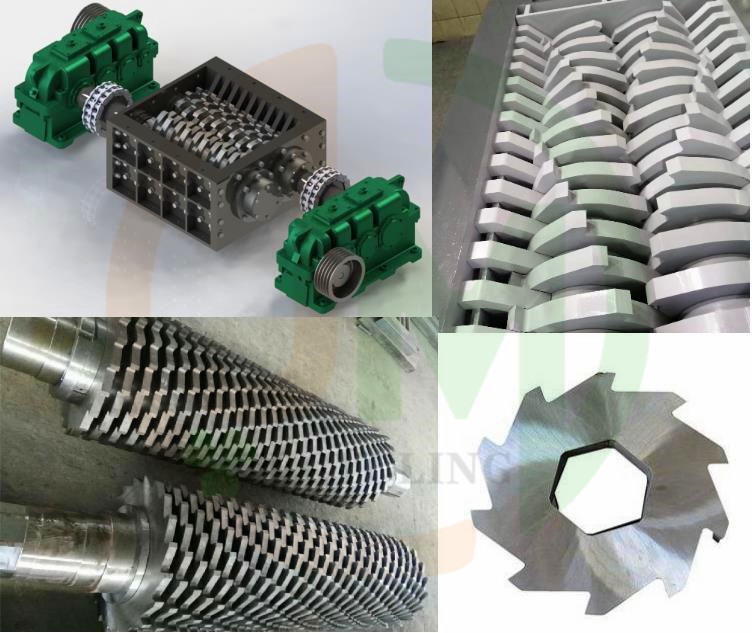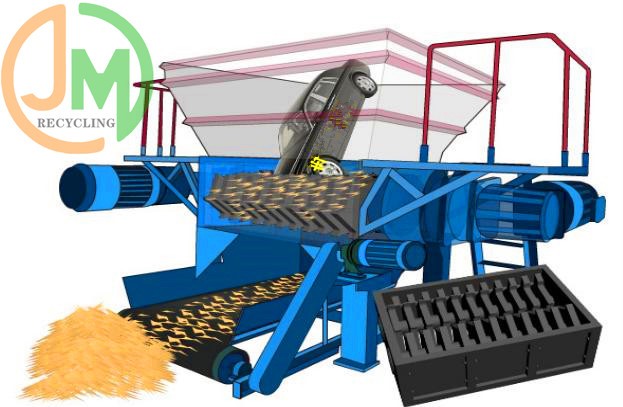 Materials shredded before vs after: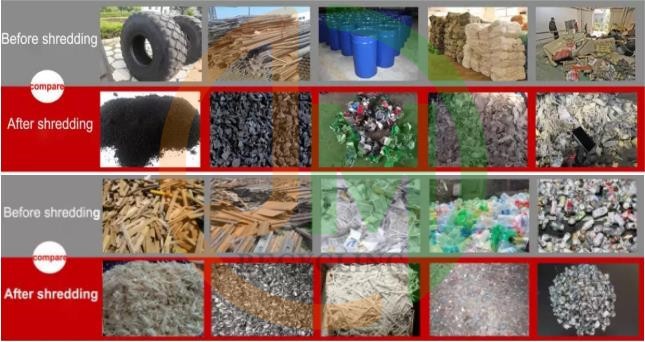 Technical data for different models twin shaft shredder

Model

Knife Size (mm)

Power(kw)

Capacity(t/h)

Machine Size

L*W*H(m)

Weight

(ton)

100

Φ140×12

3

0.1-0.3

1.2x0.5x1.1

0.3

400

Φ200×20

7.5

0.3-0.6

1.9×0.6×1.5

1.5

800

(6-12teeth)

Φ300×20

15×2

0.8-1.2

3×1.2×2.2

3

Φ300×30

18.5×2

1-1.5

3×1.2×2.2

3.5

Φ300×40

22×2

1.5-2

3×1.2×2.2

5

1000

(6-12teeth)

Φ300×30

30×2

1.5-2

3.4×1.25×2.2

6

Φ300×40

37×2

1.8-2.5

3.4×1.25×2.2

6.3

Φ400×40

37×2

2-2.5

3.4×1.25×2.2

6.5