Details
Copper Wire Recycling Machine is specially used to shred all kinds of cable and wire for recycle, also named scrap electric copper cable (wire) recycling crushing separating machine. Our machine is dry type structure, mainly used to deal with all kinds of waste copper cable,telephone wire,electric wire, and so on.
Copper wire recycling machine is made of good quality carbon steel,which has long service life. This recycling system include shredding system, crushing system, sorting system and dust collection system. The whole process is controlled by PLC. It is easy to operate, just need 1 operator. Through shredding, crushing, vibration screening, (the incompletely separated metal and nonmetal will reentry into the crushing machine and be crushed again) gravity separating, electrostatic separating and pulse dust collecting, the separation rate of the copper and plastic will reach about 99% , eventually get metal and non-metallic collective.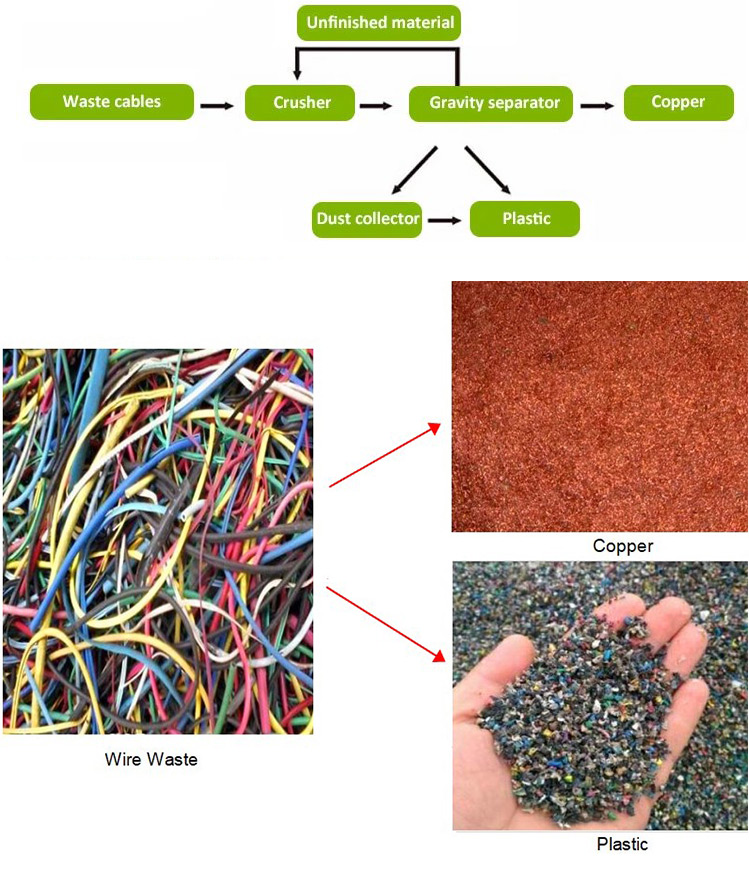 Our recycling machine process the waste electric wire and cable into final copper and plastic granule. Copper is separated from the plastic, separation efficiency can be 99%. For the copper granule, it can be sold directly or go to further refining. Through our copper electrolysis machine, the copper can be refined into cathode copper in above 99.99% purity. The plastic granules normally are PVC or rubber material, it can also be sold directly.
| | | | | |
| --- | --- | --- | --- | --- |
| Model | Capacity(Kg/h) | Power(kw) | Weight(Kg) | Dimension(m) |
| TMJ400 | 200-400 | 45 | 3200 | 4*2.1*2.5 |
| TMJ600 | 400-600 | 68 | 3850 | 6.2*5.303 |
| TMJ800 | 600-800 | 75 | 5500 | 10.4*2.1*3.3 |
| TMJ1000 | 800-1000 | 95 | 8200 | 12*4.1*4.5 |