Single Shaft Hard Plastic Block Shredder belongs to single shaft shredder (single axle shredder), it is specially used to shredding hard plastic waste into small pieces under 20--40mm. According to different kinds of plastic waste, it includes plastic lump shredder, plastic crates shredder, PP/PE plastic block shredder, ABS block shredder, fiber glass block shredder, plastic board shredder, large head plastic shredder,and so on.
Working process of single shaft shredder:
The material enters the chassis from the hopper, the pusher box pushes the material to the rotating knife roller under the push of the hydraulic cylinder, the rotating movable knife and the fixed knife crush the material, the crushed material falls through the screen, and then is transported by the auxiliary conveying equipment Go to the next process or collect and pack. The material enters the inside of the shredding box through the feeding system. The shredding blade is carried on the box. The pushing box pushes the material to the vicinity of the blade. The material is torn, squeezed, and sheared by the shredding blade. Small pieces of material are discharged from the screen holes.
Main characteristic of single shaft shredder:
1. Hopper:open hopper for easy feeding. The machine is fitted with a large filling hopper and can be loaded by conveyor belt, fork lift, crane or wheel-loader. This funnel can be adapted to suit individual requirements and guarantees a continuous and economical supply of material without any need for manual assistance.
2. Hydraulic System: Separate hydraulically-operated pusher pushes the material towards the rotor automatically inside the cutting chamber.
3. Rotor bearings : The extremely robust pedestal bearing housings are mounted outside the machine and separate from the cutting chamber to prevent dust and dirt penetrating into the oversized bearings. This ensures a longer life and minimum maintenance.
4. Screen: The screen mounted beneath the rotor determines the size of the required granulate . The screen is also easily accessible by a separate flap and can be changed easily.
5. PLC control system, automatic overload protection and auto reverse switch.
6. The low rotation speed results in a particularly quiet shredding process with low levels of dust generation.
7. Good shaft structure design, low noise,blades easy changeable.
Application as below:

Technical Parameters of shingle shaft shredder

Model

600

800

1000

1200

Motor Power (kw)

22

37

55

75

Hopper Size (mm)

600*1100

800*1100

1000*1300

1200*1400

Output Capacity (kg/h)

400-600

500-700

600-800

700-1000

Equipment Size (m)

1.85*1.4*1.8

2.4*1.6*2.0

2.7*1.8*2.2

2.9*2.3*2.2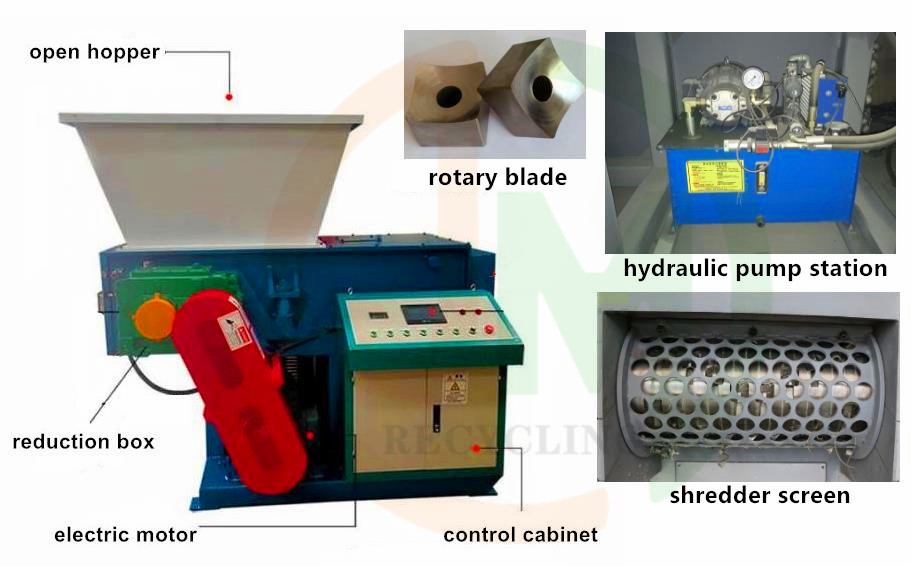 Single shaft shredder in customer's site: